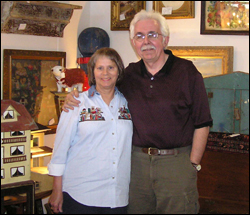 Like so many before us, we turned an over-enthusiasm for collecting antiques and art into a business. However, we also view antiques in the light of our "other" professions. We have spent our careers in the federal government promoting energy efficiency, "green" buildings, and environmental protection. Since wood furniture and art are made of recyclable and renewable natural materials, we believe collecting is a social virtue!
We have been buying and selling antiques and art for nearly 25 years, in the Pacific Northwest and the Washington, D.C., areas. Our business name for the past 10 years has been HomeAgain Antiques. There are at least three businesses with that name in the Pacific Northwest, and who knows how many elsewhere in the country, so we now have taken the business name of Seattle Folk Antiques. That name more clearly reflects who we are, where we are, and what we collect and sell. It also is the name we've used on eBay for many years. Since Home Again Antiques was not was available when we began to develop this Website, the time and circumstances seemed right for us to formally become Seattle Folk Antiques.
And so we are. We hope you remember us and visit us often.