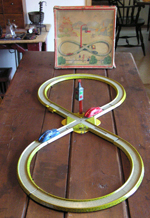 Item: Tin Cars and Racetrack
Inventory #: 4130
Description: Excellent condition c. early 1930's German lithographed racetrack with two cars and streetlight. Replaced battery pack powers the light. Cars are keywound. Original fitted box in fair condition. Box marked Foreign and cars marked D.R.P.
Dimension: Box 15" square, 2-1/2" deep.
Assembled racetrack 45" long, 20" wide. Lamp 9'1/2" high.
$795